Hi Guys, I'm Sabino from Italy
and I'm become crazy to solve one issue

but I not understand if because I'm a young EDT user, or there's a bug.
Despite the manual setting in the output file of a column whose format I want to be "date", opening the output file, the format remain text.
Now, I will try to explain you all steps done.
The input file is an xlsx, and the data filled in the column was shown from EDT as below…(I suppose because EDT identify date type in the ISO format?? Maybe…):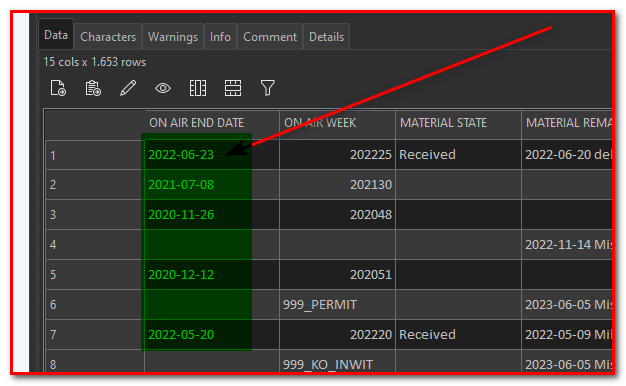 If I'm not in wrong, different from Power Query, in EDT I cannot modify the data type, but I can set them manually in the output xlsx file:

The problem is that opening the xlsx output file, the column format still remain text and not date:

Below, after opening the file, is shown the cell property where it remain text.
In order to solve this issue I tried also to add a new transform phase before output, the DateTime Format, but the situation didn't changed, and I have some dubts and errors:

in the "format from" filed, the date type isn't automatically identified from EDT? If not, I have to set the format according to how EDT shows me this data, or should I open the source file and see how it is shown to me?
in the "format to field" I setted the date format I preferred…Even if is ISO format as shown me from EDT…
In the warning sheet, there are some errors…possible that EDT not identified the informations filled in this column as date?
I hope I have clearly explained my problem, and greeting you all warmly, I remain available to provide the files I'm working on.
Thank you all.